French nuclear waste plant rocked by explosion
One worker is said to have died in a blast at Marcoule nuclear waste processing plant in southern France
Kim Willsher in Paris

guardian.co.uk, Monday 12 September 2011 13.12 BST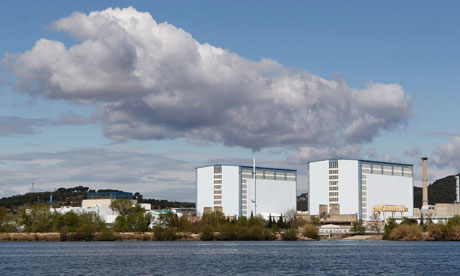 Marcoule nuclear plant in southern France. Photograph: Guillaume Horcajuelo/EPA
One person has been reported killed and four injured in an explosion at a nuclear waste processing plant in France.
An oven reportedly exploded at the Marcoule nuclear site near Nimes in the south of France. The site produces MOX fuel, which recycles plutonium from nuclear weapons, and is partly used by the Frenchnuclear power giant Areva.
Part of the process involves firing superheated pellets of plutonium and uranium in an oven to reduce them in size to make them easier to store.
The local newspaper Midi Libre reported that one person had been killed and four others injured, including one seriously, in the explosion at 11.45am (10.45 BST).
The papers said the body of one male worker at the plant had been "found carbonised", but it added that there was no evidence that the explosion had "caused any radioactive leak".
A spokesman for the French atomic energy authority told journalists: "For the moment, there is nothing coming out."
The French nuclear safety authority said in a statement that the explosion had taken place in an oven used to melt metallic waste of a "weak and very weak" level of radioactivity.
Cécile Duflot, secretary general of the political party Europe Ecology, called for "real time" and "transparent" information on the incident on Twitter.
Fire officers said a safety cordon had been thrown around the plant. The explosion happened in the Centraco centre used by the firm Socodei, a sister company of the French electricity giant EDF.
The Marcoule site is located in Languedoc-Roussillon, in southern France near the Mediterranean.