---
Hedge fund tycoons bankroll Liam Fox office as Werritty affair deepens - Magda Hassan - 12-10-2011


Hedge fund tycoons bankroll Fox office as Werritty affair deepens
October 12th, 2011 | by Nick Mathiason | Published in Tory party funding, Views from the Bureau
Liam Fox received large cash donations and gifts to meet his office running costs and other expenses from hedge funds The Guardian reported this morning.
It shows the beleaguered defence minister's most generous benefactor is Australian former Goldman Sachs banker, Michael Hintze.
Hintze, who also arranged a number of international flights for Fox, is one of the UK's most powerful hedge fund mangers with an estimated fortune of £550m. Since 2005, he has bankrolled the Conservatives to the tune of £1.5m.
But Hintze is by no means alone as a Fox funder. Among the minister's other personal donors are hedge fund tycoon, Lord Fink, veteran private equity dealmaker, Jon Moulton and financiers, David and Simon Reuben.
News of financiers bankrolling Fox comes less than two weeks after detailed research by the Bureau revealed that hedge funds, financiers and private equity firms contributed more than a quarter of all donations to the Conservative party in the past year.
Our trawl of 450 separate donations given to Conservative Central Office by individuals, companies and limited liability partnerships revealed that 27%, or £3.3m, of the £12.18m donated to the party came from hedge funds, financiers and private equity firms.
Our findings came amid growing concerns that some parts of the financial sector, termed asset strippers' or predator financiers' by some commentators, profit from financial instability and raise questions over whether sizable donations to political parties buys influence and secures favourable treatment.
While there is no suggestion that individual donors can affect policy or win contracts, the Bureau's story on Tory party funding and the Guardian's scoop on Dr Fox are linked.
The defence minister's position is growing increasingly insecure over revelations that close personal friend, Adam Werritty accompanied him on numerous foreign trips. Fox is now facing questions over whether Werritty was lobbying on behalf of businesses who may have stood to gain from decisions made by Fox.
It is understood that an ongoing Cabinet Office investigation could next week resolve some unanswered questions. But what will no doubt remain unresolved is the level of influence exerted by powerful City interests who in the past year spoke for 51.4% of Conservative party donations.
Effectively, the City majority owns the Conservative party. This at a time when the global financial system is paralysed requiring fundamental reform to serve the interests of the public rather than the other way round as seems the case today. The question remains whether the Conservatives, while so beholden to financiers, are truly in a position to bring about such much needed reform.
http://www.thebureauinvestigates.com/2011/10/12/hedge-fund-tycoons-bankroll-fox-office-as-werritty-scandal-deepens/
---
Hedge fund tycoons bankroll Liam Fox office as Werritty affair deepens - Magda Hassan - 13-10-2011



October 12-13, 2011 -- British defense minister scandal may lead to greater

crimes



WMR's British intelligence sources report that the sudden early retirement of Britain's most powerful civil servant, Cabinet Secretary Sir Gus O'Donnell, who will receive a £2.3 million pension package, at the height of the investigation by the Cabinet Secretary into allegations that British Tory Defense Minister Dr. Liam Fox shared highly-classified information with Adam Werrity, a close friend. Werrity may have parlayed the information into personal financial gain.

O'Donnell had been investigating the affair but his departure will now open the door for the powerful post of Cabinet Secretary to be split up into three weaker positions by Prime Minister David Cameron. Cameron's press secretary, Gabby Bertin, has now been implicated in the Fox-Werrity scandal.

Werrity holds no official government job and he lacks a security clearance for the classified information he was allegedly given access to by Fox. It is believed that Werrity may have passed classified information on to his multi-billionaire lobbying clients, former Goldman Sachs official Michael Hintze and now manager of the CQS hedge fund; hedge fund mogul Lord Stanley Fink; and real estate tycoons Simon and David Reuben.

The departure of O'Donnell, who has served four Prime Ministers -- John Major, Tony Blair, Gordon Brown, and David Cameron -- during a major inquiry into scandal surrounding the Prime Minister and Defense Minister, has many in the intelligence community wondering if there is something more that is being covered up.

O'Donnell may have been able to link the Werrity scandal to past defense ministry scandals involving the illegal exports of certain restricted defense items, including nuclear material, to embargoed nations or the international black market. O'Donnell has now left the civil service with a generous retirement. One of O'Donnell's predecessors as Cabinet Secretary, Lord Butler, later chaired an inquiry board that looked into the intelligence Britain used to justify the invasion and occupation of Iraq. Not surprisingly, Butler concluded that some of the intelligence on Iraq's alleged possession of weapons of mass destruction was inconclusive but that the intelligence that Iraq was pursuing yellow cake uranium in Africa was "well-founded." The document on Iraq trying to obtain yellow cake from Niger turned out to be a crude forgery. Butler later was named a director of the banking giant HSBC.

From the Matrix Churchill scandal involving banned British military technology to Saddam Hussein to serious allegations surrounding the disposition of apartheid South Africa's nuclear weapons, successive British governments have been mired in military technology and weapons smuggling scandals. O'Donnell's hasty departure during a major inquiry indicates that the successive cover-ups of British weapons smuggling and other illegal defense deals with certain problematic regimes, including Israel and India, continue to the present day.
[size=12]http://www.waynemadsenreport.com/articles/20111011_3[/SIZE]


---
Hedge fund tycoons bankroll Liam Fox office as Werritty affair deepens - Magda Hassan - 13-10-2011

An oldie but perhaps relevant, perhaps not. Just putting it here for the record.


Quote:[TABLE="class: storycontent, width: 0"]
[TR]
[TD="colspan: 2"]

Home of Tory defence spokesman Liam Fox burgled



[/TD]
[/TR]
[TR]
[TD="class: storybody"]



Liam Fox was at home when his house was burgled





A car and a laptop belonging to the Conservative shadow defence secretary Liam Fox have been stolen during a burglary at his central London home.


Dr Fox had been due to outline the Tories' armed forces manifesto on Thursday morning but the launch was cancelled at short notice.
A police spokesman said they had been called to an address near Tower Bridge and no arrests had been made.
Dr Fox said it was "not a nice feeling" to be burgled while he was at home.
The laptop was in his car when it was stolen, police sources say.
[TABLE="width: 231, align: right"]
[TR]
[TD="width: 5"][/TD]
[TD="class: sibtbg, bgcolor: #F3F3F3"]

As Tony Blair once said, things can only get better




Liam Fox
[/TD]
[/TR]
[/TABLE]

Dr Fox, a Somerset North prospective parliamentary candidate, was at his flat surveying the damage.
He said: "I feel like anyone else who has been the victim of an opportunistic burglary.
"It's not very nice to have someone in your house, particularly when you have been in it.
"It's even less nice when they have taken knives out of the kitchen drawer and leave them placed so that they can threaten you on their getaway.
"But I'm not the only person in this country who has been a victim of crime and I will have greater sympathy in the future with people who are.
"As Tony Blair once said, things can only get better."


Heinous offence


He described the burglary as "opportunistic" and said no sensitive documents were stolen.
Speaking as he campaigned in Exeter, Tory leader David Cameron said: "I'm very sorry for Liam.
"I've been burgled a couple of times and it's a horrible shock, the sense that someone has been into your house and taken your things. You feel completely invaded."
Metropolitan Police Commissioner Sir Paul Stephenson said he was sorry the shadow defence secretary had suffered such a "heinous offence".
[TABLE="class: datetools, width: 0"]
[TR]
[TD]

Page last updated at

12:20 GMT, Thursday, 22 April 2010 13:20 UK
http://news.bbc.co.uk/2/hi/uk_news/england/london/8636779.stm
[/TD]
[/TR]
[/TABLE]

[/TD]
[/TR]
[/TABLE]
---
Hedge fund tycoons bankroll Liam Fox office as Werritty affair deepens - Magda Hassan - 13-10-2011


Wealthy donors 'paid for Werritty to advise Liam Fox'
David Cameron: Liam Fox is doing "an excellent job" as defence secretary
Continue reading the main story
Related Stories
A wealthy backer of Liam Fox has told the BBC he and several others raised funds to pay for Adam Werritty to act as the defence secretary's adviser.
The donor - who wants to remain anonymous - told BBC political editor Nick Robinson that the group shared Mr Fox's ideological leanings.
The Conservatives said Mr Werritty was not an adviser, while Mr Fox has insisted he will not quit.
Labour's Kevan Jones said the situation appeared to be "a very shady set-up".
The defence secretary has been under pressure after it emerged that his friend, the lobbyist Mr Werritty, was present on 18 overseas trips and met the defence secretary at the MoD 22 times since May 2010.
He also carried business cards describing himself as an adviser to Mr Fox.
'Bypassing the rules'
The BBC's Nick Robinson says the wealthy backers who paid Mr Werritty an annual retainer did so because they saw him as someone who, unlike civil servants, could be relied on to champion support for Eurosceptic, pro-American and pro-Israeli policies.
They say they do not have defence interests, however.
Our political editor said the problem with this explanation was that having an adviser outside the rules of the civil service - and paid for by undeclared donors - was almost certainly a breach of ministerial rules.
Continue reading the main story
"

Start Quote
I'm appalled at being portrayed as having something to hide"
Liam Fox
For Labour, shadow defence minister Mr Jones told the BBC the revelations "raised huge questions".
"David Cameron talks about new politics, but I didn't know new politics was actually about letting rich people influence public policy by bypassing the rules that have been set up," he said.
"If that is what David Cameron means by new politics, I'm sorry, that is a very serious situation for British democracy.
"[David Cameron's] either got to support Dr Fox, and admit he supports this very shady set-up, or he's got to go."
At Prime Minister's Questions on Wednesday, Labour MPs pressed David Cameron for more information about Mr Werritty's meetings with officials and whether Mr Fox could keep his job, if it is shown he broke the ministerial code.
Mr Cameron said the ministerial code was clear that it was ultimately the prime minister's decision and added: "I think the defence secretary has done an excellent job clearing up the complete mess he was left by Labour."
The Cabinet Secretary is now running an official investigation into the matter and on Tuesday, officials questioned Mr Werritty - who was best man at Mr Fox's wedding and is his former flatmate.
Burglary
For his part, the BBC understands that Mr Fox viewed Mr Werritty as a kind of unofficial adviser, but has categorically denied to officials that he was in any sort of relationship with him.
Asked about his position on his way to Paris to meet his French counterpart on Wednesday, Mr Fox said: "I shall carry on doing the job I'm meant to do - the job I'm paid for."
Ed Miliband: "One rule if you're in the cabinet and another rule for everyone else".
The defence secretary has also denied claims that Conservative officials lied about a break-in at his London home last year, following claims in [url=http://www.thesun.co.uk/sol/homepage/news/politics/3866947/Tory-cover-up-over-Liam-Fox-burglary.html]the Sun that they had said Mr Fox was alone at the time - when in fact another man stayed in the flat overnight.
He said he had told police a friend - who was not Mr Werritty - had been staying in the guest room. His wife was stranded in Hong Kong by the volcanic ash cloud at the time.
"I was a victim of a violent crime, and I'm appalled at being portrayed as having something to hide. We are trying to establish why the media were given the impression I was alone."
A Conservative spokesman said later they had established the suggestion Mr Fox was alone "was released in good faith and that it was the result of a genuine misunderstanding".
'Wild gossip'
A press conference in Paris involving Mr Fox was cancelled on Wednesday and a planned keel-laying ceremony in Barrow on Thursday will also not go ahead. A spokesman said the latter event was cancelled because Mr Fox had to be at a meeting of the National Security Council in London.
Continue reading the main story
ANALYSIS
Norman Smith
Chief political correspondent, BBC News Channel
The story about the break-in matters because it keeps Mr Fox squarely in the media cross hairs and because it raises the dreaded word "cover-up".
We now know journalists were misled by Conservative officials about the circumstances of a break-in at Liam Fox's house.
We were told that Liam Fox was at home alone, we now know a male friend was staying there at the same time.
At one level the circumstances of Mr Fox's private life are entirely his matter but in the current context to have the idea of journalists being misled fuels the pressure on him.
Eventually an assessment has to be made about how far that is distracting him from doing his job.
Downing Street are standing by him pending the results of the inquiry but I think they will be forming a view as to how long they can sustain this.
Alastair Campbell used to have a view you couldn't survive more than 10 days with this sort of story, before a resignation became inevitable.
Employment Minister Chris Grayling, who ran Mr Fox's failed Conservative leadership campaign in 2005, told the BBC there was a "mass pursuit" of Mr Fox, who was doing a "good job".
Asked about rumours that the defence secretary is gay - described by Mr Fox himself as "smears" in a 2005 interview - Mr Grayling said there was "all kinds of wild gossip" about politicians.
"I've known Liam for many years, I've known Liam and his wife, they've always struck me as being a very happily married couple. The reality is that the gossip is certainly circulating."
Number 10 has said serious mistakes were made.
Mr Cameron is understood to have discussed the findings of an interim report on the inquiry with Mr Fox, but is not expected to make a final decision on his future until he sees the full report.
The original MoD report was due on 21 October but Downing Street now says there is no timetable, as it will include the Cabinet Secretary's work on whether Mr Fox broke the ministerial code.
http://www.bbc.co.uk/news/uk-politics-15269215
---
Hedge fund tycoons bankroll Liam Fox office as Werritty affair deepens - Jan Klimkowski - 13-10-2011

What we are seeing with this "Dr Fox" story is the integration of warmongering, freemarket fundamentalist, Neocons into British government and Conservative Party structures.

Two more items below:


Quote:Adam Werritty set up Liam Fox meeting with Iranian regime lobbyist

Revelation likely to add to claims that Werritty was running a shadow, more hawkish, foreign policy on Iran

Saeed Kamali Dehghan, Ian Black and Luke Harding guardian.co.uk, Wednesday 12 October 2011 21.03 BST

Adam Werritty personally arranged a meeting between Liam Fox and a senior Iranian lobbyist with close links to President Mahmoud Ahmadinejad's regime, the Guardian has learned.

The Iranian lobbyist visited Fox in May 2009 at Portcullis House. Werritty met him at the entrance of the parliamentary building and escorted him up to Fox's office, sitting in for half a meeting on Iran. "I thought Werritty's was Fox's assistant," the lobbyist who declined to be named told the Guardian. "Werritty was the main contact for meeting Fox. He was the person who arranged the time of the meeting. He collected me at the gate of Portcullis House and took me up to Fox's office.

"There was a meeting between the three of us. Werritty wasn't introduced to me. I didn't get the impression that Werritty was an especial expert on Iran. I didn't know who he was but thought he was either an official or Fox's assistant."

The lobbyist declined to reveal what was discussed. He described Werritty as "a very pleasant, sociable guy". He said he met Fox briefly twice after he became defence secretary, with others present.

The revelation is nevertheless likely to add to claims not only that Werritty masqueraded as Fox's international fixer but that he was running a shadow foreign policy on Iran a policy more hawkish than the official government position. David Cameron is said to have been annoyed by some of Fox's more neo-con pronouncements on the subject.

In February, Werritty and Fox flew to Israel for a high-profile strategic conference on regional security. Fox called for stronger sanctions to compel Iran to give up its nuclear weapons programme. He warned the Commons during the same period that it was "entirely possible" Iran could have a nuclear weapon by 2012.

Werritty also arranged and attended a dinner at the conference with Fox and Matthew Gould, Britain's ambassador to Israel. Other top political figures also attended. The Independent reported that senior Israeli diplomats were under the impression that Werritty was an official adviser to the defence secretary. It is not clear why Werritty, rather than Foreign Office officials, organised the dinner.

Werritty attended the same conference in February 2009 as an "expert" on Iran. He was a guest of a UK-based pro-Israeli lobbying organisation. The British Israel Communications and Research Centre (Bicom) paid for his flight and hotel bill.

Lorna Fitzsimmons, Bicom's chief executive, said: "We have only ever done two things with Adam Werritty in the five years I have been at Bicom. We funded him to go to the Herzliya conference in 2009 to talk on a panel on Iran and I accepted an invitation from him to talk to a panel on Iran at an event in London in 2009 or 2010."

It's unclear, however, how deep Werritty's Iranian connections are, and on what basis he is a specialist on the region. Richard Dalton, Britain's ambassador in Tehran between 2003-2006, said: he had not come across Werritty, either during his time in Iran and subsequently. "He hasn't broken the surface of Iran expert circles. I've never read anything written [on Iran] by him."

One Iranian exile said that he had met Werritty in London to discuss Iranian politics. "We met over coffee several times", he said. "He [Werritty] even spoke a few words of Persian," the exile recalled. A second Iranian exile added that Werritty was a regular participant at seminars on Iran held by Chatham House, the foreign affairs thinktank, and the Royal United Services Institute.

The source said that Werritty had visited Iran once back in 1997 and the Iranian chamber of commerce. He said that when he met Werritty in 2005-2006 he described himself as "someone very close to Liam Fox".

The source added: "I heard recently from Arab colleagues that Werritty had called himself an adviser to Fox. I didn't get the impression he was an Iran expert. He could talk convincingly but I didn't see any depth in his Iran information."

It is understood that Bicom paid less than £1,000 for Werritty to fly to Israel to attend the 2009 conference, an annual event organised by academics and former luminaries of the country's intelligence and security establishment to discuss strategic and Middle Eastern issues and promote Israel's view of them.

Werritty was invited to attend by one of its organisers, Tommy Steiner, a Nato and international relations expert who served as the executive director of the Atlantic Forum of Israel, a network-based policy organization that promoted "Israel's relations with the Euro-Atlantic Community". Steiner was unavailable for comment.

Werrity is described in the list of 2009 Herzliya participants as "Dr Adam Werritty, Advisor, Office of Shadow Defense Secretary; UK Executive Director, The Atlantic Bridge" but is not listed as speaking on Iran or anything else. He does not appear in the list of 2011 participants.

In his speech in February Fox spoke of the need to resolve the Palestinian issue as way of undercutting Iran's ability to cause trouble in the Middle East. The 2009 conference was held just weeks after the end of Israel's Operation Cast Lead in the Gaza Strip, in which 1,400 Palestinians were killed.
Quote:Liam Fox took five MPs to Washington with donor's money

Michael Lewis, who donated almost £14,000 to Fox's Atlantic Bridge charity, paid for newly elected Tory MPs' flights in 2005

Rupert Neate guardian.co.uk, Thursday 13 October 2011 09.38 BST

A major donor to Liam Fox's controversial charity paid for the defence secretary to take five freshly elected MPs on a first-class trip to Washington.

Three of the MPs joined Fox on the flight from London to Washington on October 18 2005, the same day as the first round of voting in the leadership election, which Fox subsequently lost to David Cameron. The other two MPs joined the trip on different dates.

It is thought that Fox's long-term travel companion Adam Werritty was also on the trip, but this could not be confirmed. Fox and Werritty did not respond to requests to comment.

The Tory MPs Mark Harper, member for the Forest of Dean; John Penrose, Weston-super-Mare; Brooks Newmark, Braintree; Adam Holloway, Gravesham; and Philip Dunne, Ludlow had only months earlier been elected to parliament.

All of the MPs declared in the register of members' interests that their flights and hotel bills were paid for by Michael Lewis. Lewis has donated £13,832 to Fox's Atlantic Bridge charity, which was shut down last month after regulators found it was primarily promoting Tory ideals.

"18-21 September 2005, to USA. Travel and accommodation costs met by Dr Liam Fox's office from a donation by Mr Michael Lewis, a businessman from London. I received flight upgrades on outward and return journeys from London to Washington from Virgin Atlantic," Harper registered on 17 October 2005. The other MPs' registers include similar entries, although some dates differ.

Electoral Commission records show Lewis, who is deputy chairman of the Israeli lobby group Bicom, donated £5,000 to Fox's leadership campaign on 27 July 2005.

Bicom paid for Werritty's flight and hotel bill to attend a conference in Israel in 2009 where he was asked to join a panel and talk about Iran. The Herzliya conference was one of the events listed by the Ministry of Defence at which he met Fox.

Kevan Jones, Labour's defence spokesman, said: "This is yet another question Liam Fox needs to answer. Why during his campaign to be Tory party leader, did Dr Fox's office fund a visit to the United States for new Tory MPs from a donation by businessman Michael Lewis? The only declaration of money to Liam Fox from Mr Lewis is in regards to his leadership campaign. Did he use this money donated to his campaign to fund these visits?"
---
Hedge fund tycoons bankroll Liam Fox office as Werritty affair deepens - Magda Hassan - 14-10-2011


Tory donor links to Adam Werritty increase pressure on Liam Fox
Millionaire Michael Hintze, the Tory donor who indirectly funded Adam Werritty, the friend and self-styled adviser to defence secretary Liam Fox, has tens of millions of dollars invested in defence companies through his hedge fund.
Image 1 of 2
Michael Hintze, an Australian former Goldman Sachs banker
Photo: REX
2:07PM BST 14 Oct 2011
One of the companies in which tycoon Mr Hintze's hedge fund CQS invested benefited from an announcement made by Dr Fox in July this year in his role as defence secretary, according to the Financial Times.
CQS had £21.5million invested in L-3, a high-tech US communications firm, at the time Mr Fox awarded it a contract to provide the Ministry of Defence with new "Rivet Joint" aircraft.
CQS only has a small portion of its total assets invested in defence-related positions and there is no evidence or suggestion that CQS's funds profited directly in any way from the association of Mr Hintze with Mr Werritty or Dr Fox.
The MoD said on Thursday that the contractor was chosen by the US government and the decision to select the firm had been made under the previous government. Up until now L-3's contract was not publicly released.
The Australian-born businessman Mr Hintze, who is said to be worth more than £500million, has given the Conservative Party and Tory MPs almost £1,437,830 over the past decade. One of his companies has lent the party a further £2.5million.
His firm CQS is found to have paid for flights and accommodation for a 2007 trip by Dr Fox to Mauritania and then again later that year to a conference in Florence.
In October 2008, he flew Dr Fox then Shadow Defence Secretary to Washington. He also supplied a private jet for Dr Fox and Mr Werritty to fly from the United States to London in May this year.
Earlier this week, The Daily Telegraph disclosed that Mr Werritty also had the use of a desk at the London offices of Mr Hintze until last week.
A former girlfriend of Mr Werritty's told The Telegraph: "As far as I was aware, he would get up and unless he had an external meeting he would go there as if it was his office, every day," said the woman, who said she had a relationship with Mr Werritty between April and August this year.
"He literally had an office there, tucked away in the administration area. He was off the floor, he wasn't part of the hedge fund. He was just given a free office space."
It was also discovered Mr Hintze's charitable foundation has also donated over £51,000 to Dr Fox's now-defunct charity The Atlantic Bridge, which was run by Werritty.
One Tory MP said that any evidence that Mr Hintze had interests in defence companies would put Dr Fox in a difficult position:
"This is what makes it into a grey area. It makes it a difficult decision and that becomes a tough judgment call for the prime minister and the cabinet secretary," the MP said.
"Hintze is not motivated by [financial] defence interests," he said, "but a shared ideological agenda [with Mr Fox]. But perception does matter." Sir Gus O'Donnell, cabinet secretary, is leading an inquiry into Mr Werritty's relationship with Mr Fox including possible conflicts of interests.
---
Hedge fund tycoons bankroll Liam Fox office as Werritty affair deepens - Jan Klimkowski - 14-10-2011

Fox fucks off.

Fox's web of connections.

This bunch of warmongering fools will soon be back, turning dreams to nightmares....

Neocons are viral, like Freddy Krueger.....


---
Hedge fund tycoons bankroll Liam Fox office as Werritty affair deepens - Jan Klimkowski - 15-10-2011

Freddy Krueger's motley crue:



Quote:

Liam Fox resignation exposes Tory links to US radical right



Labour and Lib Dem politicians have stepped up demands for the PM to explain ministers' involvement with Atlantic Bridge

Toby Helm and Jamie Doward guardian.co.uk, Saturday 15 October 2011 21.30 BST

David Cameron has been accused of allowing a secret rightwing agenda to flourish at the heart of the Conservative party, as fallout from the resignation of Liam Fox exposed its close links with a US network of lobbyists, climate change deniers and defence hawks.

In a sign that Fox's decision to fall on his sword will not mark the end of the furore engulfing the Tories, both Liberal Democrat and Labour politicians stepped up their demands for the prime minister to explain why several senior members of his cabinet were involved in an Anglo-American organisation apparently at odds with his party's environmental commitments and pledge to defend free healthcare.

At the heart of the complex web linking Fox and his friend Adam Werritty to a raft of businessmen, lobbyists and US neocons is the former defence secretary's defunct charity, Atlantic Bridge, which was set up with the purported aim of "strengthening the special relationship" but is now mired in controversy.

An Observer investigation reveals that many of those who sat on the Anglo-American charity's board and its executive council, or were employed on its staff, were lobbyists or lawyers with connections to the defence industry and energy interests. Others included powerful businessmen with defence investments and representatives of the gambling industry.

Fox's organisation, which was wound up last year following a critical Charity Commission report into its activities, formed a partnership with an organisation called the American Legislative Exchange Council. The powerful lobbying organisation, which receives funding from pharmaceutical, weapons and oil interests among others, is heavily funded by the Koch Charitable Foundation whose founder, Charles G Koch, is one of the most generous donors to the Tea Party movement in the US. In recent years, the Tea Party has become a potent populist force in American politics, associated with controversial stances on global warming.

Via a series of foundations, Koch and his brother, David, have also given millions of dollars to global warming sceptics, according to Greenpeace.

Labour said it wanted to know how, in 2006, when David Cameron travelled to Norway for his famous photo opportunity with huskies to promote his new-look party's "green" policies, his senior colleagues were cosying up to US groups that were profoundly sceptical about global warming.

Writing in the Observer, the shadow defence secretary, Jim Murphy, said the Tories still had many questions to answer and claimed that "while David Cameron's compassionate conservatism has been undermined by his actions at home, it could be further damaged by connections overseas".

Murphy writes: "With each passing day there have been fresh allegations of money and influence and it appears that much of the source was the Atlantic Bridge network and its US rightwing connections. We need to know just how far and how deep the links into US politics go. This crisis has discovered traces of a stealth neocon agenda. For many on the right, Atlanticism has become synonymous with a self-defeating, virulent Euroscepticism that is bad for Britain."

Fox resigned on Friday after admitting that he had allowed his friendship with Werritty, a lobbyist who portrayed himself as an adviser to the defence secretary, to blur his professional and personal interests. His resignation followed a drip-feed of revelations about the links between Werritty and businessmen and organisations with defence interests.

The revelations over Atlantic Bridge have triggered questions about the role played by Fox, chair of the charity's advisory council, and that of four of its UK members: William Hague, George Osborne, Chris Grayling and Michael Gove. As a UK charity, the organisation enjoyed tax breaks but had to comply with strict rules prohibiting it from promoting business interests.

The charity's political agenda, which it articulated in conferences devoted to issues such as liberalising the health sector and deregulating the energy markets, chimes with the thinking of many on the right of the Conservative party whom Cameron has been keen to check as he holds the Tories to the centre ground of British politics.

Lib Dem peer Lord Oakeshot said: "Dr Fox is a spider at the centre of a tangled neocon web. A dubious pattern is emerging of donations through front companies. We need to establish whether the British taxpayer was subsidising Fox and his frontbench colleagues. What steps did they take to ensure Atlantic Bridge didn't abuse its charitable status?"

Werritty, the group's UK director, was funded by a raft of powerful businessmen including Michael Hintze, one of the Tories biggest financial backers whose hedge fund, CQS, has investments in companies that have contracts with the Ministry of Defence; Poju Zabludowicz, chairman of the Britain Israel Communications and Research Centre, who chairs a US munitions company; and the Good Governance Group, a private security firm set up by a South African businessman, Andries Pienaar, who also has an investment firm, C5 Capital, focused on the defence sector.

The potentially explosive mix of big business interests and politicians that triggered Fox's demise is the subject of an investigation by the cabinet secretary, Sir Gus O'Donnell. Murphy said it was essential that the government then referred the wider issues to Sir Philip Mawer, the independent adviser on ministers' interests. "He should look at the issues in their entirety to establish precisely how this never happens again," Murphy said.

Questions are being asked over the role played by an organisation called the Sri Lankan Development Trust, whose headquarters were listed at the Good Governance Group. The trust paid for three of Fox's trips to Sri Lanka. In a statement the group said: "Our involvement with the Sri Lankan Development Trust was not done for profit or at the behest of any clients."

Arriving at the Ministry of Defence to take up his new role in charge of the department, Philip Hammond, the new defence secretary, said Fox had "done a great job.
---
Hedge fund tycoons bankroll Liam Fox office as Werritty affair deepens - Magda Hassan - 16-10-2011


Fox resigns: Police consider Werritty probe
John Mann is also considering asking the Electoral Commission to investigate Mr Fox
Continue reading the main story
Related Stories
City of London Police are considering investigating Adam Werritty, the close friend of former defence secretary Liam Fox, for possible fraud, it has said.
Labour MP John Mann has asked the police to probe allegations Mr Werritty used business cards falsely claiming he was an adviser to Mr Fox.
At the same time a firm he set up was receiving money from several wealthy supporters, it has been reported.
Mr Fox resigned after pressure over his working relationship with Mr Werritty.
A City of London Police spokesman confirmed it had received an allegation of fraud.
"Officers from the force's economic crime directorate will consider the matter and establish whether or not it is appropriate to launch an investigation."
Continue reading the main story
Analysis
Robin Brant
Political correspondent
Liam Fox is gone but the questions remain.
John Mann believes Adam Werritty's use of business cards claiming he was an adviser - coupled with the revelation that some wealthy backers claim they were unwittingly funding his numerous international visits - is evidence the 34-year-old may have broken the law.
Mr Mann also said it is possible the Electoral Commission - which regulates political parties and their funding - may be asked to look into claims that the former defence secretary failed to declare payments which could be political donations.
Mr Fox always maintained Mr Werritty was neither an official nor unofficial adviser.
He told Parliament he had asked Mr Werritty to stop using the business cards last summer.
Mr Mann said he was also considering asking the Electoral Commission - which regulates political parties and their funding - to consider whether Mr Fox should face criminal proceedings over a failure to declare political donations.
The latest comes after venture capitalist Jon Moulton on Friday said Mr Fox approached him after the election seeking funds for a company set up by Mr Werritty.
The Times newspaper reported that Mr Werritty set up the firm, Pargav, as a not-for-profit company to fund his trips abroad.
Mr Moulton said he was told Pargav was involved in "security policy analysis and research".
According to the Daily Mail, Mr Moulton bought a defence company eight months before giving money to Pargav.
Report due
Mr Fox's conduct is being investigated by Cabinet Secretary Sir Gus O'Donnell and a report is due to be published early next week.
It is expected to be very critical of his actions.
The defence secretary had been under intense pressure this week after it emerged that Mr Werritty had met Mr Fox 22 times at the MoD and joined him on 18 overseas trips since he came to office last year - despite having no official role.
Labour has called for a broader investigation into the rules governing ministerial conduct.
Mr Werritty, a former flatmate of Mr Fox and the best man at his wedding, handed out business cards suggesting he was his adviser and was present at meetings Mr Fox had with military figures, diplomats and defence contractors.
Questions have been raised about who paid for Mr Werritty's business activities and whether he had personally benefited from his frequent access to the defence secretary.
The BBC understands officials at the Department for International Development had raised concerns about Mr Werritty's involvement in Sri Lanka where, it is claimed, defence contracts were being touted.
http://www.bbc.co.uk/news/uk-politics-15324686
---
Hedge fund tycoons bankroll Liam Fox office as Werritty affair deepens - Magda Hassan - 20-10-2011


Revealed: the link between Liam Fox donors and Tory HQ
Adam Werritty funded by businessmen introduced to former defence secretary by party treasurer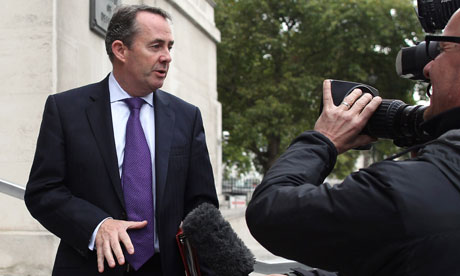 Liam Fox attacked the media in his resignation speech. He will face a fresh inquiry into his links with Adam Werritty. Photograph: Dan Kitwood/Getty Images Europe
The Liam Fox affair has reached the Conservative party's high command for the first time after it was confirmed that its leading fundraiser introduced donors to the former defence secretary, who then introduced them to his best man, Adam Werritty.
In a blow to Downing Street's central tactic of distancing itself from Fox saying that he was operating in his own way the Conservative party admitted that its senior treasurer was the conduit for donors to the former defence secretary.
Howard Leigh passed on the details of donors who wished to support Fox's campaign during the 2005 Tory leadership contest. They were later persuaded by Fox to give money to organisations that supported Werritty, according to a source, and some of the money was spent visiting Fox on lavish trips abroad. Leigh was one of party's treasurers at the time.
The disclosure is an embarrassment for the Tories and will pose further difficult questions for Fox, who has been told that he faces a parliamentary inquiry into his behaviour and Werritty. In his resignation statement in the Commons, Fox attacked the media for pursuing him.
"Last week's media frenzy was not unprecedented, and it happens where a necessary free press and politics collide," Fox said. "But I believe there was, from some quarters, a personal vindictiveness, even hatred, that should worry all of us."
A Conservative spokesman confirmed Leigh's role in helping to introduce Fox to the donors whose recent support was used by Werritty to fly around the world to meet the former defence secretary.
The spokesman told the Guardian: "Howard Leigh introduced donors to Liam Fox's office during the 2005 leadership campaign. Some of them subsequently maintained contact with Dr Fox's office. Mr Leigh had no knowledge of Pargav and has not introduced donors to Dr Fox for some time."
A source close to Leigh said: "Howard Leigh was as shocked as anybody to find that donors' funds were being used to fund Adam Werritty's trips. There is no way that he would have countenanced that."
Leigh is now the senior treasurer of the party. He is understood to have met Werritty on a number of occasions, but does not regard him as a friend. A party source says the donors approached Leigh asking to donate money to Fox's campaign, not that they were solicited by Leigh.
The Tory spokesman declined to say which donors had been introduced to Fox by Leigh, and did not expand on whether they knew of how their money had been spent by Werritty. Backers of Pargav include Mick Davis, a South African-born mining magnate known for his pro-Israel views; Tamares real estate, an investment company owned by Poju Zabludowicz, the chief funder of Israeli pressure group Bicom; and Michael Lewis, a former vice-president of Bicom, who donated £13,832 to Atlantic Bridge and £5,000 to Fox.
Davis, Zabludowicz and Lewis would not comment on Wednesday on how their donations had been solicited or what they believed the money was to be used for. However, Lewis has stated he had no knowledge of how his donations to Fox's leadership campaign were used.
A source with knowledge of some of the donations said some initial contributions were made to Fox's charity, Atlantic Bridge, and renewed in subsequent years without close scrutiny of where the money was going. He said some of the donors were also under the impression that the approaches had been approved by the Conservative party. "I don't think it was core Tory party fundraising but there were core Tory party fundraisers who were willing to support it."
Another source said there had been no co-ordination between the Jewish donors to fund Werritty, though some had initially felt well-disposed to help Fox because of his pro-Israel position. Both Davis and Leigh serve on the Jewish Leadership Council, a body with representatives from community and religious groups. Davis has been chairman of the council's executive committee since 2009.
Leigh chairs the elite Leaders' Group, which has more than 70 members who pay up to £50,000 a year for the privilege of meetings with David Cameron. Tory insiders say he has helped to bring in more than £2m a year through fundraising events, according to reports.
He is the managing director of Cavendish Corporate Finance, which helped Cameron's wife, Samantha, collect a windfall following the £18m sale of Smythson, the stationery and leather goods emporium company where she is creative dire ctor.
Leigh passed the donors over to Fox in 2005. At the time, Fox was the leading candidate of the party's right in the leadership campaign against Cameron and David Davis.
Tory sources claim Fox then maintained contact with the donors and was responsible for passing them to Werritty, who then funnelled £150,000 to Pargav.
The parliamentary standards commissioner, John Lyon, announced that he would investigate a complaint about the former defence secretary lodged by Labour MP John Mann, after Mann asked him to examine allegations that Fox allowed Werritty to live rent-free in his London flat, which allowed him to run a business from a property funded by parliamentary allowances.
Fox apologised to MPs after Sir Gus O'Donnell ruled that he was guilty of multiple breaches of the ministerial code for a "blurring of lines" between his official and private responsibilities.
In a carefully constructed sentence, Fox said: "The ministerial code has been found to be breached. For this I am sorry."Fox accused the media for hounding his family and accepting "unquestioningly" claims by Harvey Boulter, the Dubai-based businessman "It is difficult to operate in the modern environment, as we know, where every bit of information, however irrelevant or immaterial, is sensationalised, and where opinions or even accusations are treated as fact.
Boulter rejected Fox's criticism. He said: "It is most certainly not fair or correct for Fox to again brand me as a blackmailer. He knows very well that I was trying to settle a legal dispute … The Tories' statement follows unconfirmed reports on Wednesday in the Jewish Chronicle saying that Leigh had helped to pass on donors who funded Werritty's activities."
http://www.guardian.co.uk/politics/2011/oct/19/link-liam-fox-donors-tory
---