Latest research out today suggests that the Fed rate needs to go to -6% by end of 2010 to correctly absorb the downturn in the economy.
As we know, the Fed rate is bounded by 0% so this suggests that ZIRP (zero-interest rate policy) will not sufficiently help the economy (by 6%!). This means that additional stimulus packages must continue to soften the downturn.
Further comments from GS: they predict that ZIRP will be here for approx 5 years. Their forecasting measure suggests the forecast rate will reach positive again in approx. 5 years. This measure is based on forecasted unemployment rates and inflation forecasts.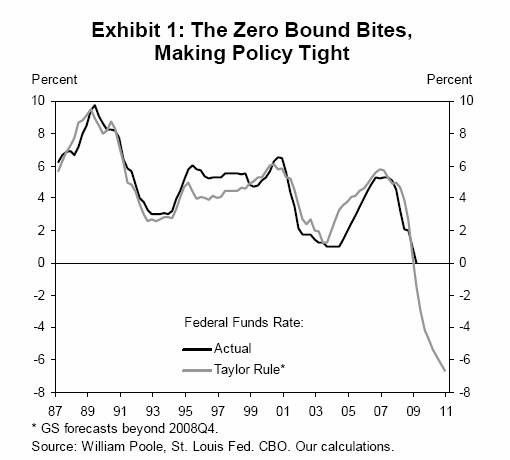 Negative interest is very unusual but not unheard of. In the late 1970's Switzerland ran a negative interest rate system to deter foreign investors owning Swiss Francs.
The shadow is a moral problem that challenges the whole ego-personality, for no one can become conscious of the shadow without considerable moral effort. To become conscious of it involves recognizing the dark aspects of the personality as present and real. This act is the essential condition for any kind of self-knowledge.
Carl Jung - Aion (1951). CW 9, Part II: P.14