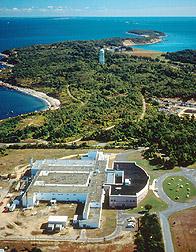 Rumor has it that there is a plum island for sale off the outer side of Gardiner's Bay, below the mouth of the Connecticut River, close by Block Island Sound, with great boating available, nearby casinos and white sandy beaches, and near Fisher's Island if you go that way. The facility may have ready-made scientific laboratory equipment for agricultural purposes and is likely well-isolated and thus quiet. Environmental studies will be performed before the sale is offered. Historical treatises about the site are likely optional, available through different sources. Contact will eventually be available through that realty agency known as the General Services Administration. The site includes buildings, industrial facilities and equipment, roadways, utilities, "specialized" facilities, natural undeveloped land, a lighthouse, and ferry docking facilities.
This post and its agent offer no certainties or warranties, and have no financial or fiduciary interest in the matter.

In other words, caveat emptor.
Full prospectus preview is here
:
http://cryptome.org/0001/gsa031810.htm
Further information, maps and "aerial" photography here
:
http://cryptome.org/eyeball/plum/plum-eyeball.htm
"Where is the intersection between the world's deep hunger and your deep gladness?"