26-01-2009, 02:12 PM (This post was last modified: 04-05-2019, 05:36 PM by David Guyatt.)
http://www.dreamhawk.com/shadow.htm
The Archetype of the Shadow
Tony Crisp
The archetype of the shadow is depicted as: A shadowy figure, often the same sex as dreamer but inferior; a zombie or walking dead; a dark shape; an unseen �Thing�; someone or something we feel uneasy about or in some measure repelled by; drug addict; pervert; what is behind one in a dream; anything dark or threatening; sometimes a younger brother or sister; a junior colleague; a foreigner; a servant; a gypsy; a prostitute; a burglar; a sinister figure in the dark. Often there is an air of disrepute about the person, or of danger, but that is not always so. Sometimes it appears as simply an indistinct figure, or someone difficult to really see clearly.
In literature we find the Shadow depicted in such stories as Dr Jekyll and Mr. Hyde; Frankenstein's monster or Lurch; Wilde�s The Picture Of Dorian Gray; Hesse�s Steppenwolf, and in many stories about werewolves or hauntings. Ackroyd, in his Dictionary of Dream Symbols, even points to Cinderella as a Shadow figure, as she is seen as inferior by her socially accepted sisters, and is kept shut in the house, thus repressed. And that is the key to the shadow, the parts of self unacceptable, repressed or held back.
In occult literature the Shadow is called The Guardian of the Threshold. It is described as a great - subjective - figure we meet at a certain stage of growth. The Guardian holds in it all the negative deeds and aspects of self committed or developed in the past, even in past lives, that must be met and transformed.
Lurch in the comedy in which he appeared, is an excellent image of the Shadow and the Guardian of the Threshold. Lurch represented Frankenstein's monster, and Frankenstein's monster was a composite made up of many dead bodies, dead people. So of course he is a wonderful depiction of the Dweller of the Threshold, the karma from past lives, the bits that need to be faced, healed, or met and integrated.
The Shadow is any part of ourselves that we reject, and so do not allow expression in our life. We may so dislike aspects of our nature we fail to see them altogether and instead see them in other people and criticise them. Nations as well as individuals do this. The Nazis projected all problems onto the Jews. The Americans have not wished to see their own social sickness, and looked instead at the Russians. No doubt the Irish blame the English, and the English use the class system, with its projections between employee and employer. It is easier than looking at one�s own Shadow. The foreigner is one of the favourite Shadow projections. This may be because through living in our culture we develop certain likes and dislikes, certain value judgements and ways of doing things. In other cultures their normal and acceptable values and ways of living may be vastly different. In dealing with the foreigner we therefore meet our own unconscious potential for living in a different way. Many individuals who worked in the British Commonwealth in vastly different cultures to their own, started out loathing the native customs, and then changing their own life to live within the new culture. In the English language it was called �going native�.
But the shadow can also hold in it the wonder of our spiritual nature that is rejected or unknown.
The Shadow develops in us, according to Jolande Jacobi, because as we grow and absorb our culture, we naturally repress parts of our nature because they are not acceptable to parents or society. These grow and mature in just the way our conscious personality does, through experience and further information - except the Shadow has a life under the surface like any socially unacceptable organisation or individual. But often it is the urges in us that date from prehistory, when present day social restraints did not have survival value, that make up a large part of the Shadow.
If you can think of the characteristics you loathe in others, that is a fair picture of what you repress in yourself. If you can define what you reject or criticise, whether that is religion, another culture, science or sex, that points to what you are hiding in shadows in yourself. The great �ladies man� may hide a Shadow that feels inadequate sexually. The loving Christian mother might meet a Shadow full of resentment and anger at how she has been taken for granted. Meeting the Shadow through our dreams is a meeting with our own reality, that in turn enables us to look at the world realistically. The shadow can be met - it leads to wholeness.
Fraser Boa tells the story of a man who told his analyst he had dreamt of Red Rooster - a cartoon character used in American national parks. Red Rooster is bossy and tells people to keep their litter and cigarettes. The analyst asked the man if he recognised Red Rooster in himself. After some thought he said no, he couldn�t see he was like that. The analyst suggested he go ask his wife if she could see Red Rooster in him. He did this and was astonished when she said she could. After a few minutes of his attempts to suggest she was mistaken, she suggested he ask each of his three children. He took each one aside and was amazed when each said that of course they could see Red Rooster in him. He was always bossing people around and being authoritative. Red Rooster was his shadow.
A main feature of many archetypal figures, and particularly of the Shadow, is their autonomous activity in us. This is called an autonomous complex, or in some schools �sub personality�. We experience this as an influence to act in particular ways that have a lot of feeling and drive in them, but may be very different to our image of ourselves. For instance we may deeply criticise a man for leaving his wife for another woman, only tofind later that we have the same urge, and had been denying it. Therefore, when we detest the shadow in another person, our dislike for them is very strong and often unreasonable in its degree. So much so that we cannot stop mentioning them or criticising them. See: autonomous complex; sub-personalities.
P. W. Martin says that the Shadow is �something which comes between a man and his fulfilment: his laziness, his fecklessness, his tendency to let things slide or to over-do things, his cowardice, his rashness, his self-indulgence, his carping and envious nature, his murkiness.� It is all the negatives which we prefer not to see about ourselves.
However, because the Shadow is the �out of sight� area of our psyche, it also holds in it great treasure through its connection with our unconscious potential. In fact a great deal of our energy is involved in our �negatives�. When we meet our shadow or our fears, we are enormously more energised. Meeting the Shadow and unfolding the possibilities held unexpressed is our life work. Without it we may never become the mature and full person we are capable of. As Prospero says of Caliban, we need to say �this thing of darkness I acknowledge mine�. Through this we gain not only our own greatness, whatever that might be, but also the acceptance of our common connection with humanity.
Jung says that if we could fully meet our Shadow, we would be immune to all any moral or verbal insinuations. We would already have seen this for ourselves. Finding this sort of transformation to a state beyond guilt is a task for the hero/ine who has the strength to descend into the underworld and wrestle dark creatures.
Meet Mr. Hyde (from TV series Jekyll)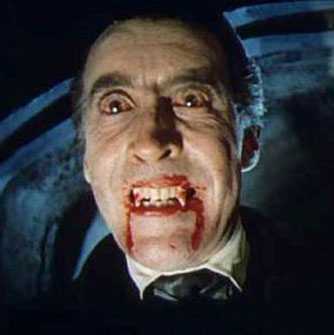 Meet Count Dracula (Christopher Lee in classic film)
Meet Mr. Wolf
Meet Mrs ugly witch
For our Hobbit members, meet Gollum
Meet Yourself
The shadow is a moral problem that challenges the whole ego-personality, for no one can become conscious of the shadow without considerable moral effort. To become conscious of it involves recognizing the dark aspects of the personality as present and real. This act is the essential condition for any kind of self-knowledge.
Carl Jung - Aion (1951). CW 9, Part II: P.14