The Jersey Children's Home Paedophile case is undergoing a revision.
The original police officer who investigated the allegations and revealed his concerns to the press, deputy chief Lenny Harper, was forced to resign earlier this year. Now his boss, the chief officer of the States of Jersey police, Graham Power, has been "suspended".
The latest "spin" contains such prominent fact twisting jewels as the following:
The "secret underground chambers" were just holes in the floor, "not dungeons or cellars".
Judge for yourself - is this picture of a 'hole in the floor' an accurate impartial statement or a political spin: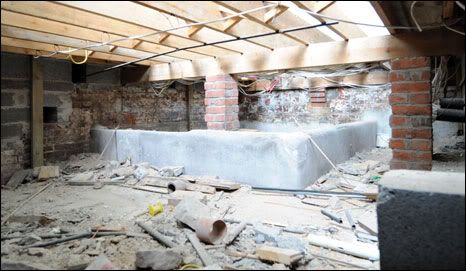 View of the first cellar room cleared, showing a bath-like, grey-walled structure (see:
http://news.bbc.co.uk/1/hi/uk/7267632.stm
)
Note also that the "lime pits" earlier reported to the now 'retired' former deputy chief police officer Lenny Harper, by the man who claimed to have dug them, do not feature in the below bullet points:
Quote:"The first pit, away from the house, was about 1.5 metres (5ft) deep, with a large quantity of lime at the bottom. A police spokeswoman said: "The inquiry team can think of no reason why this pit would have been created, nor why it was filled with lime. We would emphasise that we have no evidence of any motive." (see: http://news.bbc.co.uk/1/hi/uk/7267632.stm).
It's always risky to make predictions but it seems evident to me now that this case is going to end up with one or two very low profile paedo convictions -- and the allegations of involvement of high profile politicians and businessmen in a paedophile ring using the Jersey Home as a weekend "stopover" and "sailing holidays" will now just wilt away.
http://news.bbc.co.uk/1/hi/world/europe/...724622.stm
Jersey chief officer is suspended

Haut de la Garenne was closed as a children's home in 1986
The chief officer of the States of Jersey Police has been suspended pending an investigation into his role in an inquiry into alleged child abuse.
Earlier, detectives probing alleged abuse at Haut de la Garenne said no one had been murdered there and previously released evidence had been inaccurate.
Graham Power has "strenuously" denied any wrongdoing and says he will rigorously contest any allegations.
He said he could not comment publicly on the nature of the allegations.
Earlier on Tuesday, Deputy Chief Officer, David Warcup, said there was no evidence that any children had been murdered or bodies destroyed at the former home.
'Much regret'
Police are investigating abuse claims centring on Haut de la Garenne home.
Former police chief Lenny Harper said he was "surprised" by the comments, which misrepresented what he had said.
Mr Warcup expressed "much regret" at "misleading" information released by his predecessor on items found at the property.
Detectives said only three of the bone fragments found could be human, and two of these were hundreds of years old.
Detective Superintendent Michael Gradwell then discredited a number of the claims made about the operation by the island's former deputy chief officer, Lenny Harper.
• After being examined by experts from the British Museum, a fragment thought to have been from a skull turned out to be a piece of Victorian coconut shell.
• "Shackles" found in rubble turned out to be "a rusty piece of metal", and there was no evidence to suggest it had been used for anything suspicious.
• There was no blood in the cellar, and the bath blood was said to have been found in had not been used since 1920.
• The "secret underground chambers" were just holes in the floor, "not dungeons or cellars".
• Most of the 170 pieces of bone found in the search came from animals. Three were human and two of these dated from between 1470-1670 and 1650-1950 respectively.
Mr Warcup said: "Our assessment is that the forensic recoveries do not indicate that there have been murders of children or other persons at Haut de la Garenne.
"Nor do we believe that the evidence indicates that bodies have been destroyed, buried or hidden at Haut de la Garenne.
"It's very unfortunate and I very much regret that information was put into the public domain by the States of Jersey police about certain finds at Haut de la Garenne, which was not strictly accurate."
The investigation into the home had cost "just over £4m", Mr Warcup added.
Mr Gradwell said the child abuse inquiry would continue.
He said: "The purpose of today is to say there is a child abuse inquiry but in terms of Haut de la Garenne, there was no murder."
The officer said he was not blaming Mr Harper, adding: "I am not judge, juror or executioner - I am not looking to apportion blame."
Jersey's Chief Minister, Senator Frank Walker, and the newly appointed Home Affairs Minister, Deputy Andrew Lewis, will outline their response to the developments later.
Jersey Police launched the investigation into the Haut de la Garenne site, which was a youth hostel in recent years, in 2006.
It became public in February when officers said they had found what was believed to be part of a child's skull but was in fact a piece of coconut.
Scores of people then came forward saying they had been abused at the home between the early 1960s and 1986.
The shadow is a moral problem that challenges the whole ego-personality, for no one can become conscious of the shadow without considerable moral effort. To become conscious of it involves recognizing the dark aspects of the personality as present and real. This act is the essential condition for any kind of self-knowledge.
Carl Jung - Aion (1951). CW 9, Part II: P.14